Are you aware that persuasion is a superpower that every go-getter needs to have? Persuasion is an influential skill that can shape the course of our careers and personal lives. Whether you're aiming for a promotion at work, seeking to build stronger relationships, or navigating life's challenges, mastering the art of persuasion can be a game-changer. Let's delve into the profound impact of persuasion and explore how it can empower us to achieve our goals and ambitions.
Staying Ahead Of The Curve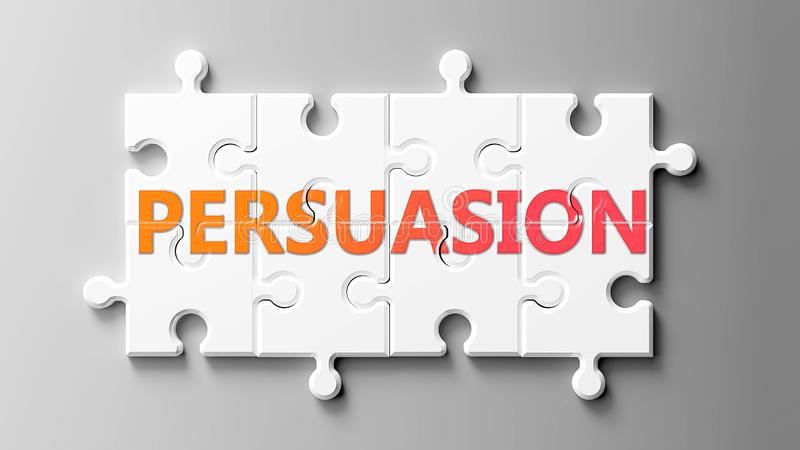 It is important to note that being persuasive isn't the same thing as being manipulative. The power of persuasion lies in its potential to inspire, influence, and create meaningful change. Here are some key benefits of how persuasion can positively impact career growth:
Influencing Decision-Makers: Persuasive communication enables you to influence decision-makers in your organization. When presenting ideas, proposals, or solutions, the ability to articulate your points effectively can sway management to consider your suggestions seriously. For example, convincing your boss to implement a new workflow process or investing in professional development opportunities can demonstrate your leadership skills and proactive attitude, leading to career advancement. Caroline Castrillon in her blog post offers some tips on ways you can use persuasion to boost your career.
Gaining Support from Colleagues: In a collaborative work environment, persuasive skills can help you gain support from colleagues and team members. When working on a group project, convincing your team of the benefits of your proposed strategy can lead to better teamwork, increased productivity, and ultimately, success in achieving project goals. This collaboration and influence can position you as a team player and leader, which can contribute to your advancement within the organization.
Negotiating Salary and Benefits: As explained in our blog post Decoding Salary Negotiation: 5 Tested Factors To Consider Before You Accept The Job Offer, during salary negotiations and performance reviews, persuasive communication can make a significant difference in the outcome. By effectively highlighting your achievements, contributions, and the value you bring to the organization, you can negotiate for better compensation packages and additional benefits. This can lead to improved financial rewards and career progression.
Building Strong Professional Relationships: Being persuasive in your interactions with colleagues, clients, and stakeholders helps build strong professional relationships. When others respect and trust your ability to communicate and influence effectively, they are more likely to support your career growth. For example, convincing a senior colleague to be your mentor or building rapport with clients through persuasive communication can open doors to new opportunities.
Leading and Motivating Teams: As you climb the career ladder, you may find yourself in leadership roles. Persuasive leadership is vital for motivating and inspiring your team to perform at their best. By effectively communicating the vision, setting clear goals, and motivating team members to excel, you can drive success within your team and make a significant impact on the organization's overall performance.
Health and Mindfulness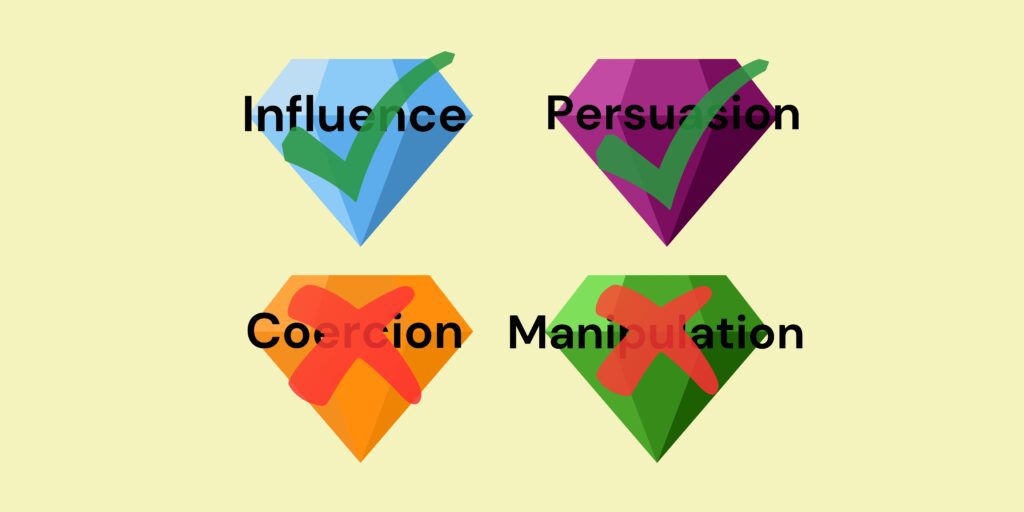 Persuasion is a valuable communication skill that can be used ethically and effectively without crossing into manipulation. Here are some ways to persuade without it coming across as manipulation:
Be Transparent and Honest: Always be transparent about your intentions and present the facts honestly. Avoid distorting information or using deceptive tactics to make your case.
Listen Actively: Show genuine interest in the other person's perspective and concerns. Active listening allows you to understand their needs and tailor your persuasive arguments accordingly.
Provide Evidence and Logic: Back up your arguments with solid evidence and logical reasoning. Using data and examples to support your points can strengthen your case without resorting to manipulation.
Respect Boundaries: Be respectful of others' boundaries and personal choices. Avoid pressuring or coercing them into making decisions against their will.
Give Space for Decision-Making: Allow the other person to make their own choices and decisions without undue influence. Provide information and guidance, but ultimately respect their autonomy.
Build Trust: Establish trust in your relationships by being consistent, reliable, and trustworthy. People are more receptive to persuasion from those they trust.
Avoid Guilt-Tripping or Fear Tactics: Refrain from using guilt-tripping or fear tactics to manipulate others. Instead, focus on positive and constructive messaging.
Seek Win-Win Solutions: Aim for win-win outcomes where both parties feel they have gained something from the exchange. This approach fosters collaboration and fosters healthy relationships.
Acknowledge Counterarguments: Be open to acknowledging and addressing counter arguments. This shows that you respect differing viewpoints and are willing to engage in constructive dialogue.
Be Patient and Respectful: Avoid pushing too hard or being aggressive in your persuasive efforts. Be patient and allow the other person to come to their own conclusions in their own time.
Mid-Week Tips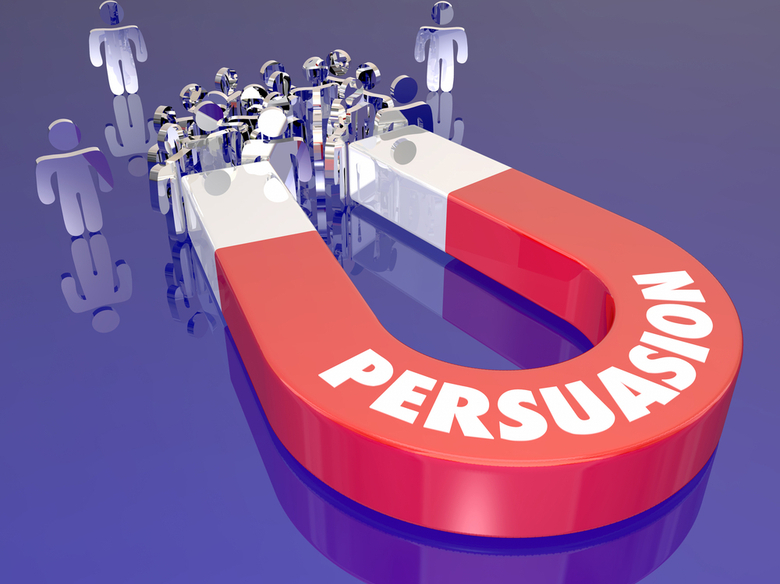 Here are some tips to help you become more persuasive:
Be Confident: Confidence is essential in persuasive communication. Speak with conviction and belief in your ideas. However, avoid arrogance or dismissive attitudes towards opposing views.
Understand Your Audience: Tailor your message to the needs, interests, and values of your audience. Take the time to learn about their perspectives, concerns, and priorities so that you can address them effectively.
Be Clear and Concise: Present your ideas in a clear and straightforward manner. Avoid jargon and complex language that might confuse or overwhelm your audience. Keep your message concise and focused on the key points.
Use Stories and Examples: Stories and real-life examples can make your message more relatable and memorable. Use anecdotes and case studies to illustrate the benefits of your ideas or proposals.
Highlight Benefits: Focus on the benefits and positive outcomes of your ideas or proposals. Explain how your audience will gain from accepting your viewpoint or taking the desired action.
Address Objections: Anticipate potential objections or concerns that your audience might have and address them proactively. Be prepared to provide evidence or counterarguments to overcome resistance.
Use Positive Language: Frame your message in a positive light. Use words that inspire, motivate, and create a sense of possibility. Avoid negative language or overly aggressive approaches.
Build Rapport: Establishing a good rapport with your audience can make them more receptive to your message. Show genuine interest in their opinions and find common ground to foster a positive connection.
Use Visuals: Visual aids, such as slides, charts, or graphs, can enhance your message and make it more engaging. Visuals can help clarify complex information and reinforce your key points.
Practice and Seek Feedback: Like any skill, persuasion improves with practice. Practice delivering your message in different settings and with different audiences. Seek feedback from trusted colleagues or mentors to identify areas for improvement.
Learn from Others: Observe skilled communicators and influencers to learn from their techniques. Pay attention to how they structure their arguments, use storytelling, and engage their audience.
Highly Recommend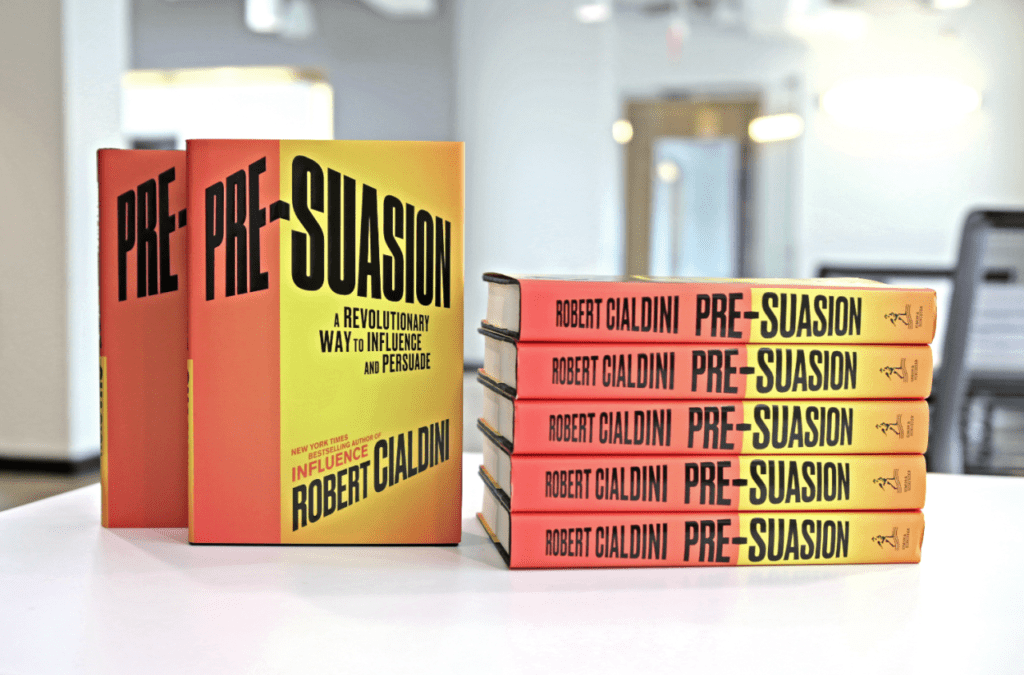 Pre-Suasion: A Revolutionary Way to Influence and Persuade by Robert Cialdini Ph.D
Cialdini's Pre-Suasion was recognized as one of the "Best Business Books of 2016" by the Financial Times and described as "compelling" by The Wall Street Journal. Drawing from his extensive experience as a highly cited social psychologist, Cialdini reveals the essential techniques for becoming a skilled persuader. Surprisingly, you don't need to change someone's attitudes or beliefs. According to Cialdini, all you need to do is redirect the audience's attention before encouraging them to take relevant action.